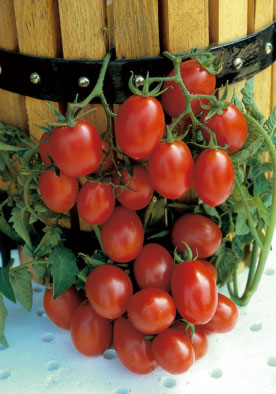 TM326 - Grape Tomato Pomodoro Crovarese ® 99% Germination NON-GMO
Item Number

Italian Name

Scientific Name

326

 

Pomodoro Crovarese ®

 

 

Lycopersicon esculentum Mill.
Description
A very productive variety the plant is very resistant to viruses and drought and has good leaf coverage that protects fruit from the sun. The intense red-coloured fruits are pear-shaped with a "drop at the end  and weigh about 1 ounce. This variety is particularly suitable for areas where there is little water.
Sowing Period 
In a greenhouse from January to April
Sow Method
Transplant from indoors in early spring
| Life Cycle | Days of Maturity | Sun Type | Spread | Max Height | Planting Time |
| --- | --- | --- | --- | --- | --- |
| Annual Plant | 65-70 Days | Full | 30-45 inches | - | Winter |
Growing Calendar
 = Outside Sow Period
  = Sow Indoors then Transplant seedlings
= Harvest Period
 = Tunnel/Cloche Gardening