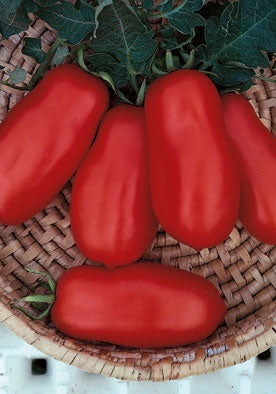 300 - San Marzano 2 Heirloom Tomato Pomodoro (INDETERM) D.O.P. NON GMO
Item Number

Italian Name

Scientific Name

300

Pomodoro San Marzano 2 

 

lycopersicon esculentum Mill.
Description
A plant of indeterminate growth, both robust and rustic, with leaves that protect the fruit from strong sunlight . It is a long, rectangular-cylindrical shaped fruit, very uniform, about 3 ounces in weight. Its dense firm flesh, and bright red color are both visible internally and externally. A variety suitable for use as fresh produce or for industrial use it is tolerant to Verticillium and Fusarium. Denominazione di Origine Protetta
Sowing Period 
in seed bed or outdoor in spring. Trasplant seedlings about a month after sowing when the plants are about 8 inches tall. Plant 16 inches apart, leaving 32 inches between rows. We suggest using supports for the plants.
Sow Method
Direct, then transplant
| Life Cycle | Days of Maturity | Sun Type | Spread | Max Height | Planting Time |
| --- | --- | --- | --- | --- | --- |
| Annual Plant, Intermediate | 90 Days | Full | 16 inches | - | Spring |
Growing Calendar
 = Outside Sow Period

  = Sow Indoors then Transplant seedlings

= Harvest Period

 = Tunnel/Cloche Gardening