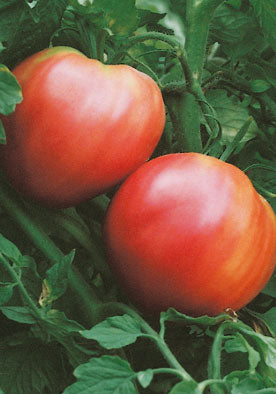 318 - Heart Tomato Pomodoro Cuor Di Bue Heirloom (INDETERM) NON-GMO
Item Number

Italian Name

Scientific Name

318

 

Pomodoro Cuor Di Bue 

 

Lycopersicon esculentum mill.
Description
An indeterminate medium-late variety plant that is very robust and produces large fruit shaped like a bull's heart. Fleshy fruit that is almost seedless and is light red coloured. In  a seed bed from January to April.
Sowing Period 
In a seed bed from January to April. Transplant about a month after sowing when the plants are 6 to 8 inches tall at a distance of 16 inches along the row, leaving 30 inches between rows.
Sow Method
Protected or Direct
| Life Cycle | Days of Maturity | Sun Type | Spread | Max Height | Planting Time |
| --- | --- | --- | --- | --- | --- |
| Annual Plant | 65-70 Days | Full | 40-55 inches | - | Winter to Fall |
Growing Calendar
 = Outside Sow Period

  = Sow Indoors then Transplant seedlings

= Harvest Period

 = Tunnel/Cloche Gardening